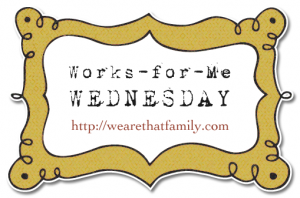 Linking up with Works-for-Me Wednesday at We Are THAT Family again.
Why I'm thankful we moved overseas during the internet age:
Facebook
I know a lot of people waste too much time playing on Facebook. And it's no substitute for real, face-to-face relationships, but for expats, it's such a great tool to keep us in touch with our family and friends! There's a sort of out of sight, out of mind thing that happens when you move overseas. Being away from home, you send update emails, pictures, and videos to keep in touch with people, but very few people send anything back. With FB, it's so much easier for people to respond to our updates, and we can sort of eavesdrop on their lives and keep up with them. I appeal to all of my FB friends: be disciplined in your FB usage so that you don't have to decide to disable your account, and thus disappear from my life for years at a time. Also, post lots of pictures and updates so that I can keep up with you.
Add to that: Instagram. I'm on Twitter, too, but I don't keep up with people as much on Twitter as FB and IG.